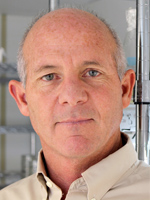 Division of Biological Sciences

Profile

Stephen Mayfield is a professor in Molecular Biology in the Division of Biological Sciences. He obtained his bachelor of science degrees in biochemistry and plant biology from California Polytechnic University in San Luis Obispo and a Ph.D. in molecular genetics from the University of California, Berkeley. From 1984 to 1987 Mayfield was a NIH post-doctoral fellow at the University of Geneva, Switzerland. In 1987 he joined the Scripps Research Institute and become a professor and associate dean before joining UC San Diego in 2009.

The research in the Mayfield lab focuses on molecular genetics in green algae, and on the production of therapeutic proteins and biofuel molecules using algae as a production platform. To develop algae as a biotechnology platform, the group is developing the molecular tools that will be used to produce either recombinant proteins or engineered biofuel molecules.

Engineering algae for the production of hydrocarbon molecules that can be used as biofuels is one major focus of the lab, and recent studies have demonstrated the tremendous potential of eukaryotic algae for the expression of recombinant enzymes that allow for greater production of biofuels. Their continued genetic, biochemical and structural studies should lead to a greater understanding of the mechanism of gene expression in algae, and allow algae to become a viable source for sustainable biofuel and recombinant protein production.