Dust can settle on a lot of things over 20 years, but as Jeff Rector '97 can attest, quantitative training from the UC San Diego School of Global Policy and Strategy is not one of them.
"This is the most exciting thing I've done in my career, and it took 20 years to be able to say that." — Jeff Rector '97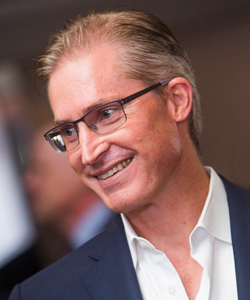 It's probably why the statistic that two out of three Sub-Saharan Africans lack access to electricity startled him so.
"That's roughly 600 million people in Sub-Saharan Africa," Rector enlightened. "A large portion of them can be most economically or sustainably served with clean energy microgrids. We don't need some technological breakthrough for this to work. Renewable energy is finally cheaper than conventional energy. We know that. So why aren't these being built? They should be.
"Lack of affordable financing is the primary barrier to deployment of this technology — and throughout my career I have learned the techniques that can be applied to facilitate the flow of cheaper debt and equity finance into frontier markets. I can see a solution to this complex problem that few others can and even fewer will act on. In a way, I feel responsibility to do something."
And so he has, launching Millennium Microgrid this spring.
Running on Rector's decades-honed adeptness in advising on development and financing for energy and other infrastructure projects, the company develops decentralized clean energy microgrids in Sub-Saharan Africa and arranges long-term debt and equity financing for them.
Big-picture impacts of Millennium Microgrid aside, the company also serves as a memento to Rector's commitments to the School of Global Policy and Strategy and his education.
"Now is a very interesting and auspicious time for an initiative like this … changing the world by leveraging private capital, which is abundant, and focusing on new technologies for important social purposes," said Deep Decarbonization Initiative co-founder David Victor, who also is a formal adviser for Millennium Microgrid. "What Jeff is trying to do is a beautiful combination of technology, smart schemes for finance and development."
Read the full story at the School of Global Policy and Strategy.