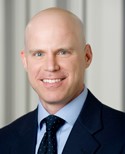 School of Global Policy and Strategy

Profile

Jim Lambright has a wealth of experience leading and advising organizations operating at the intersection of global finance, business, and government. His current advisory work includes financial and energy companies exploring new business models driven by technology and policy changes.

Most recently, he served as senior vice president of Sempra Energy, overseeing M&A and corporate strategy for the Fortune 500 utility and mid-stream company. Prior to joining Sempra Energy, Lambright served as chief operating officer, chief financial officer, and board member of a San Diego-based venture-backed renewable energy company.

Lambright's earlier leadership roles include serving as the presidentially-nominated and Senate-confirmed chairman and CEO of the U.S. Export-Import Bank, an independent government corporation based in Washington, D.C., responsible for financing U.S. exports. During his tenure, Lambright managed a $60 billion credit portfolio with exposure to more than 150 countries and transformed the Ex-Im Bank into a self-financing institution, ending reliance on the annual federal budgeting process.

During the financial crisis of 2008-09, Lambright served as chief investment officer of the U.S. Treasury Department's $700 billion Troubled Asset Relief Program (TARP) at the request of Treasury Secretaries Henry Paulson and Timothy Geithner. In this position, Lambright chaired the TARP Investment Committee and built the team, policies, and programs to execute more than 600 investments in financial and automotive companies, including AIG, Citigroup, and GM.

He serves on the advisory board of the University of California San Diego School of Global Policy and Strategy and the board of PeacePlayers International, a Washington, D.C.-based nonprofit organization. He also is a Henry Crown Fellow of the Aspen Institute.

Lambright earned a law degree with honors from Harvard Law School and a bachelor's degree with distinction from Stanford University.