Ralph Keeling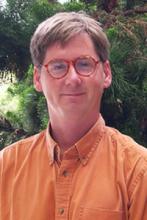 Scripps Institution of Oceanography

Profile

Ralph Keeling is the current program director of the Scripps CO2 Program at the Scripps Institution of Oceanography. He is also a professor and the principal investigator for the Atmospheric Oxygen Research Group.
Research Interests
Measurements of variations in atmospheric oxygen
Recent perturbations to the global carbon cycle
Air-sea gas exchange
Detection of ocean heat storage and transport using atmospheric gases
Paleoclimate theory.
Select Publications
Keeling, R.F., et al., "Measurement of changes in atmospheric Ar/N2 ratio using a rapid- switching, single-capillary mass spectrometer system", Tellus, 56B, 322-338, 2004.
Keeling, R.F., Garcia, H.E., The change in oceanic O2 inventory associated with recent global warming, Proceedings of the National Academy of Sciences, 99 (12), 7848-7853, 2002.
Keeling, R.F., Visbeck, M., "Paleoceanography-Antarctic stratification and glacial CO2", Nature, Vol.412, p.605-606, 2001.
Stephens, B.B., Keeling, R.F., Antarctic sea ice and the control of Pleistocene climate instability, Paleoceanography, Vol.16, 112-131, 2001.
Stephens, B.B., Keeling, R.F.,The influence of Antarctic sea ice on glacial-interglacial CO2 variations, Nature, Vol. 404, 171-174, 2000.
Keeling, R.F., Stephens, B.B., Najjar, R.G., Doney, S.C., Archer, D., Heimann, M., Seasonal variations in the atmospherice O2/N2 ration in relation to kinetics of air-sea gas exchange, Global Biogeochemical Cycles, Vol..12, 141-163, 1998.
Keeling, R.F.; Piper, S.C.; Heimann, M., Global and hemispheric CO2 sinks deduced from changes in atmospheric O2 concentration, Nature, Vol. 381, 218-221, 1996